The sun was out this morning and the walk to the station was almost pleasant. It almost feels like spring, I know that the forecast is threatening us with snow again and I honestly hope we can get our shit together this time around.
The food shop didn't get done last night, we were far to over the day for that.

We were both pretty sleepy last night, after dinner with PS Access's Access Granted and some Outside Xbox videos, it was pretty much bed time. I have a feeling we were asleep by 10:30 last night, this doesn't happen often with me because I always feel as if I'm robbed of part of my evening due to commuting. Last night got some much needed sleep, I'm feeling a lot less snoozy today.
Tonight we shall be going food shopping after I get back from work, I'm sure it will be magical. Unlike all the other people in the lower part of England, we didn't panic buy all the food and hence have to go shopping now because the cupboards are bare. There is also the chance of choosing our dinner from the quick dinner aisle, I foresee cheesy mash in my future.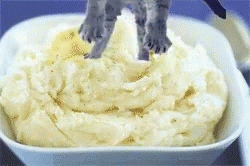 I love this gif so much!
Thank you for reading my blog!!
I hope you all have a wonderful Thursday!
--------------------------------------------------------------------------------------------------------------------------
Song of The Day: